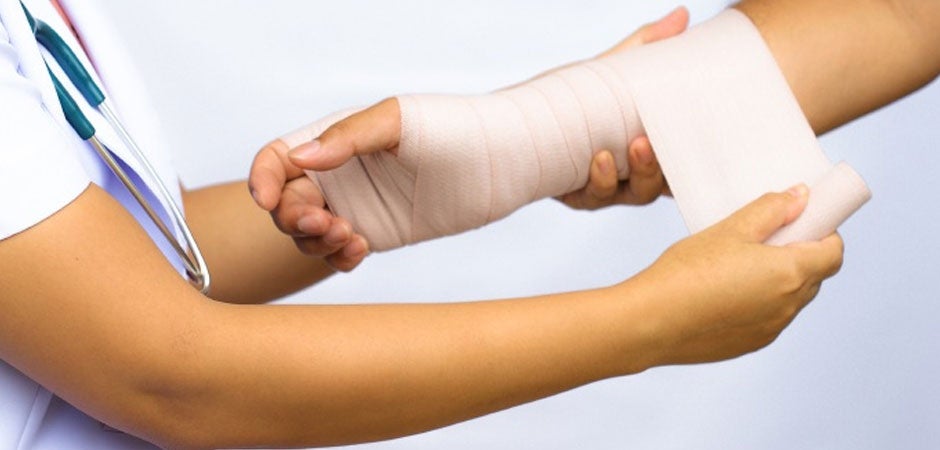 Outpatient wound care and hyperbaric treatment services
Our bodies are designed to heal wounds naturally and quickly. However, some individuals have underlying conditions that can turn wounds into complex medical problems requiring specialized treatment and care.
The key to successful and rapid healing of wounds is early detection, advanced treatment options and learning how to avoid conditions that can slow the healing process:
Those that occur

at the wound site

, such as prolonged pressure on the wound, reinjured and swollen wound tissue, localized infection in the wound site, and others.
Those that affect

the entire body

such as age, chronic disease, compromised immune system due to disease or medication or radiation therapy, poor circulation and others.
The Advanced Wound Centers at Hillcrest specialize in outpatient wound care and hyperbaric treatment services.
Our team of experts are certified in wound care and provide a multi-disciplinary approach to treatment. Patients can expect a thorough evaluation of current and past medical conditions to design a unique treatment plan.
Because chronic wounds are often related to other medical conditions, we stay in touch with your primary care or referring physician, and provide them with regular progress reports.
If you or a loved one are faced with a wound condition, the experts at the Advanced Wound Center offer state-of-art technology and gentle care to help you get well.
Services Offered
Advanced wound dressings
Surgical and traumatic wound treatment
Leg and foot ulcer treatment
Compression therapy
Total contact casting
Placement and care of live tissue grafts
Burn care
Vascular testing
Hyperbaric oxygen therapy
Pain Management
Patient Education
Support Services
Conditions Treated
Diabetic ulcers
Arterial and venous ulcers
Pressure sores and skin lacerations
Gangrene
Radiation burns
Compromised skin grafts
Post-operative infections
Bone infection (osteomyelitis)
Traumatic injuries
Two locations in Tulsa and one in Pryor
Open Monday – Friday from 8 a.m. - 4:30 p.m.
Hillcrest Medical
1120 S Utica Ave
Tulsa, OK 74104
918-57-WOUND (96863)
Hillcrest Hospital South
8803 S 101st E Ave.
Suite 160
Tulsa, OK 74133
918-294-HEAL (4325)
Hillcrest Hospital Pryor
111 N Bailey St.
Pryor, OK 74361
918-824-7901
Hyperbaric Medicine
Hyperbaric oxygen therapy accelerates the healing process of wounds by increasing the amount of oxygen traveling through the bloodstream to injured organs and tissue.
In a hyperbaric chamber, patients breathe 100 percent oxygen allowing up to 20 times more oxygen saturation in the blood.
Increased oxygen levels promote the growth of new blood vessels, build appropriate levels of collagen and white blood cells to fight infection and facilitate tissue development.
Medicare has approved HBO therapy for the following wound conditions:
Non Healing Diabetic Foot Ulcers
Infection in a bone (Osteomyelitis) that does not respond to treatment
Delayed Radiation Injuries
Necrotizing Soft Tissue Infection
Crush Injuries
Compromised Skin grafts or flaps
Gas Gangrene